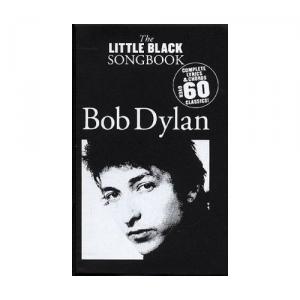 Plus de 60 chansons du grand Bob Dylan dans un format de "livre de poche".
Toutes les paroles et les diagrammes d'accords guitare.

Titres :
- A Hard Rain's A-gonna Fall
- All Along The Watchtower
- All I Really Want To Do
- Blind Willie Mctell
- Blowin' In The Wind
- Changing Of The Guards
- Chimes Of Freedom
- Dark Eyes
- Don't Think Twice, It's All Right
- Every Grain Of Sand
- Forever Young
- Girl From The North Country
- Gotta Serve mebody
- Hurricane
- I And I
- I Believe In You
- I Pity The Poor Immigrant
- I Shall Be Released
- I Threw It All Away
- I Want You
- If Not For You
- I'll Be Your Baby Tonight
- I'll Keep It With Mine
- Is Your Love In Vain?
- Isis
- It Ain't Me Babe
- It's All Over Now, Baby Blue
- John Wesley Harding
- Jokerman
- Just Like A Woman
- Just Like Tom Thumb's Blues
- Knockin' On Heaven's Door
- Lay Lady Lay
- Like A Rolling Stone
- Mama You Been On My Mind
- Masters Of War
- Mississippi
- Most Likely You Go Your Way And I'll Go Mine
- Most Of The Time
- Mr Tambourine Man
- Not Dark Yet
- Positively 4th Street
- Quinn The Eskimo (The Mighty Quinn)
- Rainy Day Women #12 & 35
- Sad Eyed Lady Of The Lowlands
- Sara
- Series Of Dreams
- She Belongs To Me
- Shooting Star
- Stuck Inside Of Mobile With The Memphis Blues Again
- Tangled Up In Blue
- The Man In Me
- The Times They Are A Changin'
- Things Have Changed
- This Wheel's On Fire
- Tomorrow Is A Long Time
- Visions Of Johanna
- What Good Am I?
- You Ain't Goin' Nowhere
- You're A Big Girl Now

176 pages
16€
Livre en anglais mais bon, ce sont des accords...